TacoStandUp
Original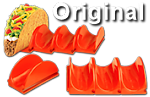 Now in use on tables in thousands of homes and restaurants worldwide, our original TacoStandUp works great for your crispy corn tortilla 'hard shell' tacos.
(TacoStandUp is 3" L x 1 ½" W x 1 ½"H )
TacoStandUp
EL Grande
We've had lots of requests for a larger holder and our new TacoStandUp El Grande is perfect for your flour tortilla 'soft shell' tacos.
(TacoStandUp El Grande is 4"L x 2"W x 2" H)
The Fun Way to Serve Tacos!
New TacoStandUp Combo 8Pk.!!!
TacoStandUp 'El Grande'
Our larger TacoStandUp El Grande is the perfect holder for soft shell taco lovers. Same innovative interlocking design. Same unique usefulness. Same warm red color. Same fun!
We've had lots of requests for a larger holder and now we have TacoStandUp El Grande for you!
TacoStandUp El Grande is dishwasher safe and stacks on end for convenient storage. They're super durable, made of food grade ABS plastic (no BAP) and weigh 2.0 oz ea!
Like it's little brother TacoStandUp, the TacoStandUp El Grande's work great and will make your soft shell tacos look great on the plate. No more taco fallout, no more taco turnover. Holds your super size overstuff hard shells great too.


"N

o kitchen is complete
without TacoStandUp"
About the handiest little problem solver to come along since pockets on shirts! The innovative design with an interlocking "channel and key" built into its base gives TacoStandUp a unique usefulness. Serve 1, 2, 4, 6 or any number of tacos. There is almost no limit to the variations with which you can arrange your tacos for serving. Get creative!
TacoStandUp products are not intended for use in microwaves/ovens
Prepare
P
reparation is twice as fast because now you have both hands free. No more balancing act -- no more taco fallout!
Serve

T
acoStandUps work great and make your tacos look great on the plate. You'll serve your family and friends your delicious tacos in a visually appealing, appetizing new way.
Dishwasher Safe
T
acoStandUps are super durable, and have a nice "weighty" feel. Dishwasher and Freezer safe. TacoStandUps are made of ABS and contain no BPA. Not for use in microwaves or ovens.
Stack & Store
T
acoStandUps stack on end for convenient, space-saving storage.