Original Size Package Pricing

Now in use on tables in thousands of homes and restaurants worldwide,
our original TacoStandUp works great for your crispy corn tortilla 'hard shell' tacos.
(TacoStandUp is 3" L x 1½" W x 1½"H )
Prices include all applicable sales tax
U.S. Deliveries Only

International buyers must contact us directly
for shipping & handling rates
Awesome New Taco Holder
'El Grande'
Introducing NEW! - TacoStandUp 'El Grande' from TacoStandUp.
Our new larger TacoStandUp 'El Grande' is the perfect larger taco holder for soft shell taco lovers. Same innovative interlocking design. Same unique usefulness. Same warm red color. Same fun!
TacoStandUp 'El Grande' is dishwasher safe and stacks on end for convenient storage. They're super durable, made of food grade ABS plastic (no BAP) and weigh 2.0 oz ea! Like it's little brother TacoStandUp, New TacoStandUp 'El Grande's work great and will make your soft shell tacos look great on the plate. No more taco fallout, no more taco turnover. Holds your super size overstuff hard shells great too.

'El Grande' Package Pricing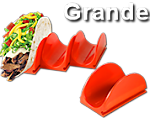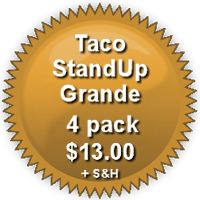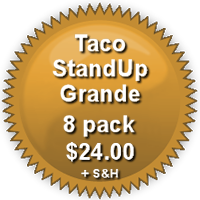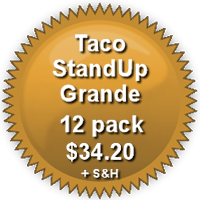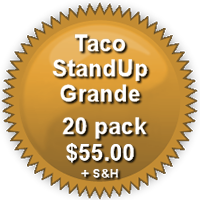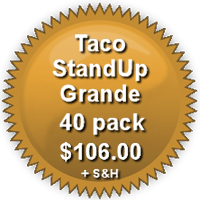 We've had lots of requests for a larger taco holder and our new TacoStandUp 'El Grande'
is perfect for your flour tortilla 'soft shell' tacos.

(TacoStandUp 'El Grande' is 4"L x 2"W x 2" H)